Modular. Scalable. Industrial Grade I/O
EDGEBoost I/Os provide the latest in transformative technologies, providing maximum flexibility and compatibility with Premio industrial computing solutions. System integrators and OEMS can configure their industrial computer directly for their applications workloads with plug and play ease.
Interoperability through PCIe protocol: Seamless low-latency communication and high-speed bandwidth
Modular and scalable: Mix and match customization for flexible I/O configuration
Ruggedized for harsh environments: Purpose built to withstand the toughest environmental challenges for ultimate reliability
Compatible with EDGEBoost Brackets: Plug and play integration into Premio industrial computers
Select EDGEBoost I/O Modules for Compatibility
Premio standard computing solutions can support a variety of modular add-on daughterboards and carrier boards for more wired connectivity, digital and analog I/O, and edge AI scalability. Browse through our selection of EDGEBoost I/O modules and discover how to maximize your I/O requirements with plug and play ease.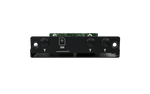 EBIO-2M2BK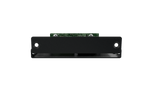 EBIO-M2MK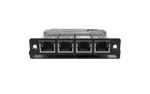 EBIO-4ETH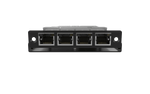 EBIO-4ETH-POE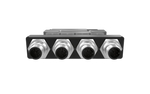 EBIO-4ETH-M12
EBIO-4ETH-POE-M12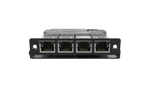 EBIO-4LAN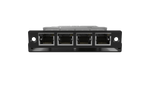 EBIO-4LAN-POE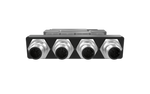 EBIO-4LAN-M12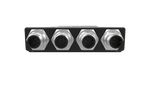 EBIO-4LAN-POE-M12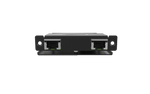 EBIO-D10G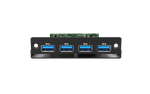 EBIO-4U3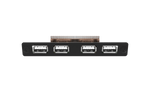 EBIO-4USB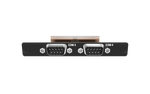 EBIO-2COM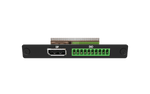 EBIO-DP-DIO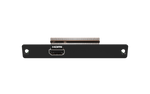 EBIO-HDMI
Scalable EDGEBoost I/O Module Technology
Hardware deployments at the rugged edge require reliability in the harshest settings. Mix and match key technologies to enable performance when it matters most in a add-on modular design.
Edge AI M.2 accelerators
NVMe M.2 storage
5G connectivity modems
Power-Over-Ethernet LAN RJ45/M12 connectors
Digital and legacy I/O ports
EDGEBoost Brackets: A Modular I/O Solution
EDGEBoost Brackets are purpose-built to integrate an EDGEBoost I/O Module into its design. When selecting a Premio industrial computer with EDGEBoost Brackets, you gain access to the advantages of a modular, scalable, and configurable solution to meet mission critical I/O requirements for more wired connectivity, digital and analog I/O, and edge AI scalability.
RCO-6000 Series AI Edge Inference Computer
High performance inference computers for the most powerful data processing in real-time, scalable I/O, wireless connectivity, and support modular EDGEBoost Nodes.
Supports up to 2 EDGEBoost I/O modules
ACO-6000 Series In-Vehicle Computer
EN50155 certified in-vehicle computers for seamless integration with railway and intelligent transportation.
Supports up to 2 EDGEBoost I/O modules
Up to 18x LAN, 16x PoE, and 16x USB
RCO-3000 Series Small Form Factor Computer
Rugged and fanless computer with a high-performance processing, scalable I/O, and wireless connectivity.
Supports 1 EDGEBoost I/O module
BCO/RCO-1000 Series Fanless Mini Computer
Ultra-compact and fanless mini computers provide low-power data processing for the most space constrained deployments
Scalable up to 3 EDGEBoost I/O modules
EDGEBoost I/O modules designed as stackable expansion
Mission Critical I/O for Industry 4.0
As technological advances in IoT, Big Data, and Machine Intelligence put greater demands on industries like manufacturing and automation, data movement from Information Technology (IT) and Operational Technology (OT) rely on a variety of interoperability with key I/O ports for reliable data processing, storage, and connectivity.
IoT Data for Localized Computing, Automation, And Intelligence At the Edge
Rugged edge computing plays a critical role in accelerating data processing based on a variety of sensor input data and enabling access to insightful analytics close to the data source.
EDGEBoost I/Os at the Rugged Edge
Frequently Asked Questions (FAQs)
The EDGEBoost I/O modules are proprietary daughterboards and carrier boards with a particular set of I/O that can be integrated into Premio industrial computers that feature an EDGEBoost bracket.
No, the EdgeBoost I/O module is designed specifically for specific Premio industrial computers that have an available EDGEboost bracket slot. Make sure your computer model is compatible with the module before adding it into an I/O configuration. Contact our embedded computing experts and they will help configure your computing solution to meet your optimal I/O requirements.
No, EDGEBoost I/O are proprietary modules that are specifically designed for Premio fanless industrial computers that feature EDGEBoost brackets. Contact us today and our embedded computing experts will help configure your computing solution to meet your optimal I/O requirements.
The modular EdgeBoost I/O is an advanced technology that provides a wide range of input and output options for your Premio fanless industrial computers. Many traditional computing systems are limited to the fixed I/O on the motherboard. However, EDGEBoost I/O modules provide a streamlined solution for maximum I/O scale for specific applications.
I/O operations are important for computers because they enable communication, enhance functionality, improve performance, and meet user needs. A computer system that offers a range of I/O options can provide better performance and functionality, making it a more versatile and valuable tool for real-time processing for data generation at the edge.
No, but it depends on the application requirements and specific I/O demands. All Premio industrial computers come with fixed I/O directly on the motherboard that cover popular I/O requirements (see product data sheets for I/O layouts). EDGEBoost I/O modules are optional and provide additional I/O, NVMe storage, or even AI acceleration if needed through a modular design approach.
Yes. EDGEBoost I/O are designed to be modular, making it easy to swap them out for a maintenance-free upgrade for different I/O demands. The modular design allows for easy upgradability and configurability to the fanless industrial computer. Please contact our embedded computing experts for more information about upgrades or replacements.
The Edge AI category of our EDGEBoost I/O modules (EBIO-M2MK and EBIO-2M2BK) offer m.2 socket support for validated m.2 AI acceleration and NVMe storage. Please see the module datasheet for specific m.2 socket size options.
The amount of additional I/O ports will depend on how many EDGEBoost Brackets the industrial computer supports. Contact us today and our embedded computing experts will help configure your computing solution to meet your optimal I/O requirements.
Yes, EDGEboost I/O modules are completely tested and validated to withstand the same ruggedized harsh environments that our Premio fanless industrials computers are tested in.
Yes, please review the EDGEboost I/O module compatibility list or contact our embedded computing experts for more information on EDGEBoost I/O configuration.
Yes, it is possible. The RCO-6000 series has a split-architecture design that allows for the simultaneous use of customizable EDGEBoost I/O modules and EDGEBoost Nodes.
The module comes with a one-year warranty from the date of purchase. For more information on the warranty terms and conditions, contact us to speak to an embedded computing expert.